Do you worry about your privacy when browsing online? Check out my Brave Browser review to discover how to protect your privacy when browsing.
If you've spent any amount of time following DottoTech or watching the regular updates on the DottoTech YouTube channel, what I'm about to tell you might come as a surprise. For some time now, I've been using a browser that isn't Google Chrome. It's called the Brave Browser.
To be fair, while some of you may think I'm a Google guy, I disagree. I'd say I'm more of a whatever-works-the-way-I-need-it-to-work or an "if it ain't broke, don't fix it" kind of guy.
Here's the thing: Chrome's far from, well, "not broke." Fact is, Chrome's ecosystem is just rife with challenges underneath that simplified, user-friendly exterior.
That's why I decided to give the Brave Browser a shot—and the fact that it looks and works almost exactly like Chrome made the transition a lot easier
Still, there's one just one big question here: Is it as good as Chrome? I'll talk about what I learned after exploring the Brave Browser, and I'll let you decide.
Brave Browser Tutorial: Why Would You Want To Shift?
I can think of a few reasons why many users, myself included, are intrigued by the Brave Browser. Here are the three biggest ones.
Whether we realize it or not, our internet security is perpetually and increasingly at risk. This invasion of privacy happens every time we browse the web: we provide Google and the various websites we visit with specific and personal information about ourselves—and when companies collect our data, it's easier for them to turn us into a product. And obviously, many of us don't like that.
Mainstream browsers like Chrome may look sleek and smooth, but under that clean, shiny hood is a system that is anything but lean. In fact, these browsers couldn't care less about being agile, efficient, or quick. Aside from being notorious memory hogs, they also take a heavy toll on your machine's resources. Simply put, they're lazily coded, fat, bloated, and sluggish.
If you look at the first two issues I mentioned, you'll notice that the third one has something to do with both of them: Ads. When you get served with a bunch of ads, your browser has to work harder than normal. Of course, with more ads come more chances of your data being stored or even distributed without your consent.
 
Brave addresses these three key issues handily.
For starters, Brave looks, feels, and functions a lot like Chrome. You'll feel right at home with it.
Brave is built on Chromium, an open-source language that many other browsers are built on. This also means that you can use the Brave Browser on Android. You might be thinking about how much "Chromium" sounds like "Chrome," so let me tell you: No, Google does not get access to your data through Brave.
While the user interface does matter, that's not the biggest issue here. It's all the stuff happening in the background that causes the performance hiccups in your mainstream browser. On the other hand, Brave works as simply and as cleanly as it looks.
Actually, the biggest takeaway here is that the numerous extensions built for Google Chrome will also run on Brave.
Brave Browser Password Manager
So after you install and run Brave, it'll prompt you to set a search engine as your default choice. (I chose Google as my main page, of course.) Afterwards, I started filling up my digital tool box by installing my go-to extensions.
The first extension I installed was LastPass, and the process was simple and straightforward:
Click on the hamburger menu on the side.
Click on Extensions.
Click on the hyperlink to the Web Store.
The Chrome Web Store's extensions—yes, the same ones you rely on in Google Chrome—are usable in Brave. (LastPass and Evernote both worked like a charm, so it's not farfetched to think that everything else will, too.)
Extension compatibility means you won't have to give up the functionalities you've gotten used to in your previous browser.
Private Browsing With Brave Browser
Much like all the other web browsers out there, Brave Browser asks you to save your login info — your username and password — in them. This is supposed to be a convenient process, but I'm not really a fan. Truth is, I'd feel more comfortable with having all of my passwords in a third party product, one that's just dedicated to protecting my security, instead of having all of them in a browser that the provider can access and even profit from anytime. Your mileage may vary, of course; all I'm asking is for you to take some time to think before using your browser's password manager (and implore you to use something else).
The hamburger menu here is incredibly similar to the one in Chrome, with some differences.
When we think of incognito mode, many of us end up under the mistaken impression that it grants us total privacy, when in fact, it only keeps our local search history clean. The sites we visit, as well as the provider itself, will still be able to gather a fair bit of information about us.
Brave, on the other hand, offers the option to open a New Private Window with Tor, which works a little differently.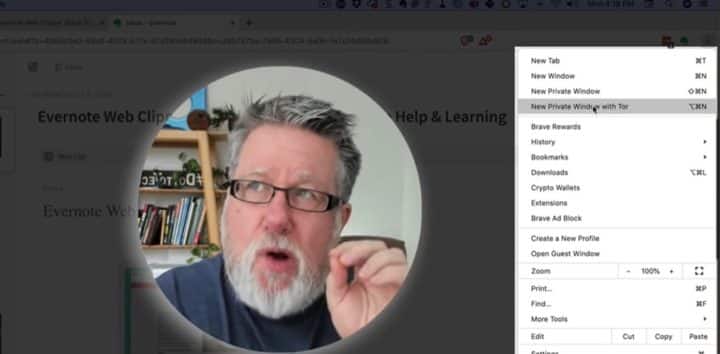 With Tor, your IP address is also hidden from the sites you visit, by routing your browser through several versions of the Tor server before it reaches its destination. These connections are encrypted, so that your ISP or employer can't see what sites you're visiting.
However, Tor can slow down browsing, so some sites may not load at all.
Brave Browser Rewards
When you open a new tab in Brave, it actually shows you some interesting information, including:
How many ads you've blocked
How much bandwidth you've saved
How much time you've saved in your browsing journey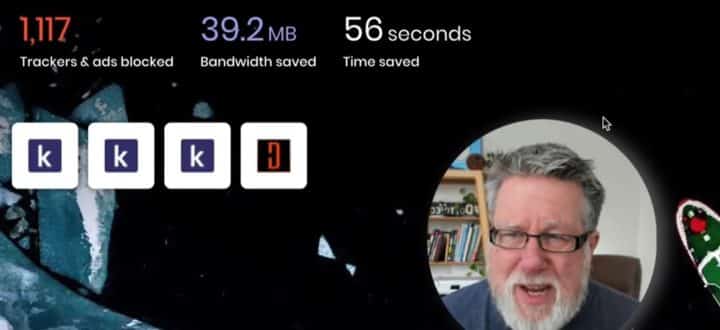 Brave can't block all ads—you can't ad block the entire internet—but it can block the most egregious, obvious, and even offensive ads from appearing.
As an added benefit, Brave's unique ad blocking setup and rewards system can allow advertisers to form a different relationship with you. It has a feature called Brave Rewards, in which the revenue for viewing ads is divided proportionally among its stakeholders. Whether it'll work in practice remains to be seen, but it's still a good move.
When you click on the Brave Rewards icon, you'll see your current tally, based on the ads you've seen. You can claim your reward and earn points.
At the very least, Brave demonstrates how ads have value, and recognizes the possibility of a more equitable distribution system of the rewards and funds attached to ads.
The Verdict: Should You Be Brave Enough To Use Brave?
Honestly, any objections I had with regard to using Brave quickly disappeared when I realized what it could do and what it offered. And frankly, I can't think of any reason why anyone would be particularly against using it.
If you've been a loyal Chrome user, you'll find the Brave Browser to be a great alternative. You're essentially not giving up anything, and getting potentially better security, better performance, and an interesting ad revenue-splitting model in return.
Feeling Brave enough to make the shift? You can download Brave from the official website.
STEP up your productivity?
If your answer is YES, then you should sign up to our free weekly Webinar Wednesdays to go behind the scenes and get tips and tricks on how you can 10X your productivity and become a better content creator.