Tired of jumping between browser tabs every time you need to create a new project in Asana, save an article in Evernote, or make a quick note in Google Keep?
Using browser extensions can transform your browser from that thing you use to access the internet into a powerful productivity-enhancing tool. 
Today, I'd like to share nine of my favorite browser extensions. I use them every day and they make a huge difference to my workflow.
1. LastPass
I use the LastPass password manager to manage usernames and passwords for different online accounts.
It's perfect for sharing login information with the Dotto Tech team, as well as family members, without giving out sensitive information.
The LastPass extension makes it easy to securely log into various accounts without having to remember (or worse, reuse) all my passwords.
More resources:
2. The Evernote Web Clipper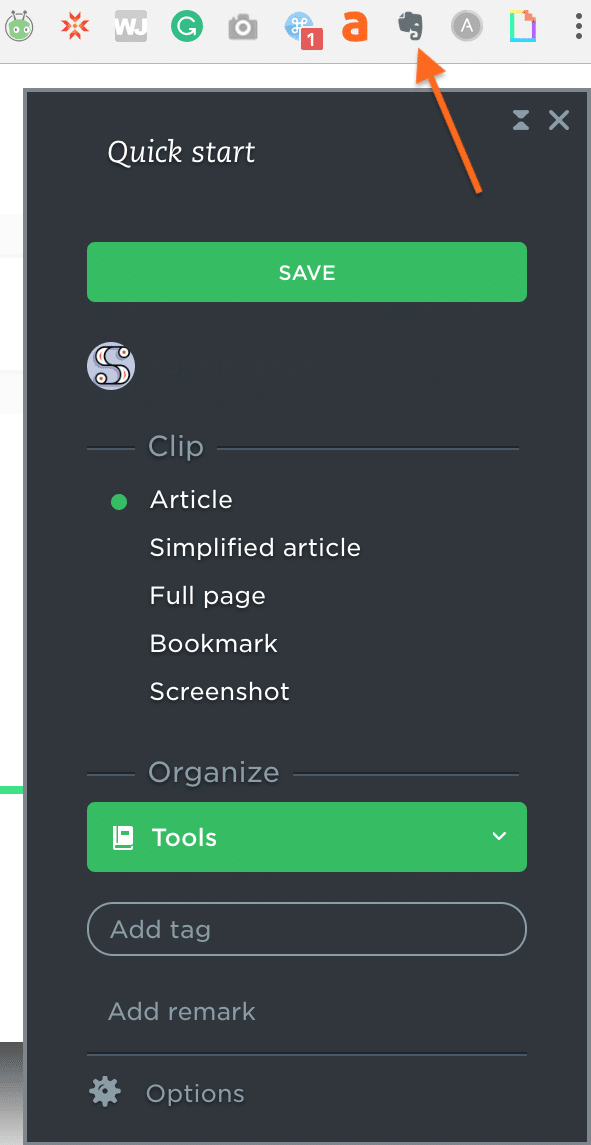 Evernote is indispensable to me– it's the heart of my productivity system. I use it to save and organize research, make notes, and store ideas. Heck, we even used it to publish an online course that's been taken by thousands of people.
The Evernote Web Clipper extension lets me collate and organize articles and information throughout the day without opening up the app. It's a superb research tool for anyone that uses Evernote regularly.
More resources:
3. Google Keep
Google Keep is a simple note-taking tool. While not as advanced at Evernote's, the extension is great for saving interesting content you come across and making quick notes you can refer to later while you browse.
More resources:
4. Grammarly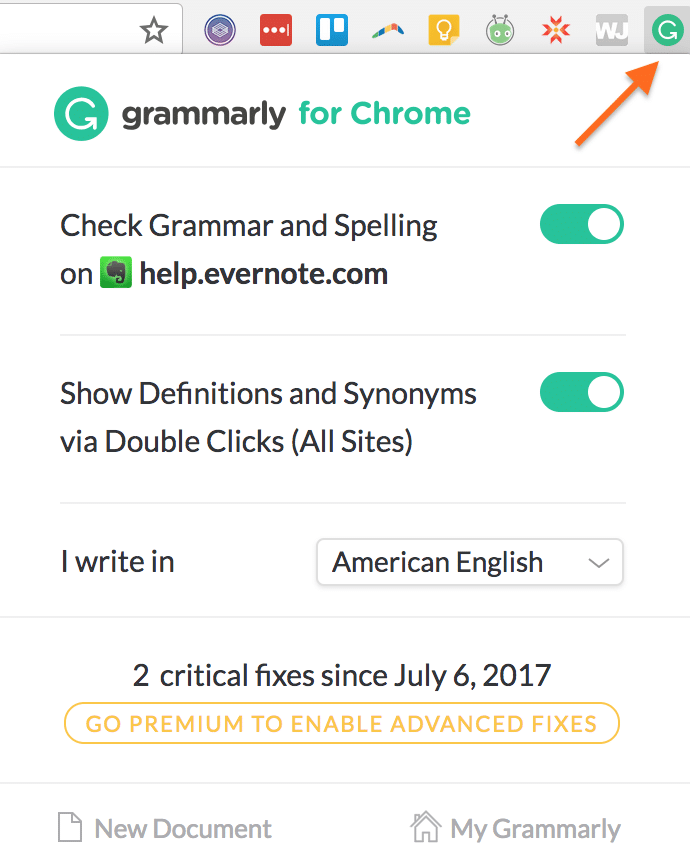 Grammarly is an active spell and grammar checking tool. It helps you keep your blog posts, emails, social media posts, and notes error-free.
The extension checks your writing as you go and highlights mistakes– whether you are writing a new post in WordPress or creating your latest Facebook update.
More resources:
5. Agorapulse
Agorapulse is a social media management dashboard that makes managing and scheduling your social media content super easy.
With the Agorapulse Chrome Extension, you can schedule content for publication as you browse– you can share content to social platforms in real time, add it to your queue, or schedule it for later.
More resources:
6. Asana 
Asana is a project management tool. We use it to manage our team at Dotto Tech.
With the Asana extension, you can add tasks from your browser without opening Asana up in a different tab.
More resources:
7. Bitly
Bitly is a link shortener and tracker.
The Bitly extension lets you shorten links instantly instead of heading over to Bitly– it automatically creates a link for whatever page you are on.
8. Dayboard
Dayboard is a task management app. The Dayboard extension is a site blocker– it blocks your access to specific websites for a set period of time.
However, I use the Dayboard extension for a different reason. When you open a new tab in Chrome with the extension installed, something really cool happens.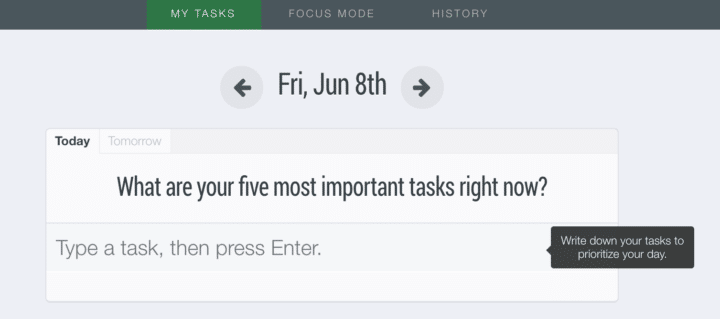 Dayboard asks you for your top five tasks for the day. Then, every time you open up a new tab, it shows you your most important tasks.
This is a great reminder for staying task-focused and on-track.
9. The Silent Site Sound Blocker
Block out the annoying sound of background video and audio with the Silent Site Sound Blocker extension.
When you visit a site that uses autoplay, Sound Blocker will give you a few options:
Whitelist the site. Allow it to autoplay every time you go on– useful for sites like YouTube.
Let it play this one time.
Stop it from playing just this one time.
Blacklist the site. Never allow the site to autoplay.
You can change these settings at any time.
If you are tired of sound suddenly bursting through your speakers, this extension can help you put a stop to that.
Some Other Cool Extensions
In my research, I came across some other cool browser extension worth a second look.
BehindTheOverlay
This extension may be the perfect fit for anyone that hates overlay pop-ups. it allows you to keep reading the article behind the pop-up.
Unshorten Link
The antithesis of Bitly, this extension takes a shortened link and shows you the original. It's a good way to make sure you are heading to a trustworthy site before you click through.
Tin Eye Reverse Image Search
This handy extension helps you find an image's original source quickly and easily. You can use it to find the original source or search for higher quality versions.
Use browser extensions to make your life easier
The right extension can add a lot of extra functionality to your browser. My nine daily go-to's save me a lot of time.
Do you have favorites? What are your must-try browser extensions? Let me know in the comments.
Until next time,
Have fun storming the castle!
What are you doing this Wednesday? Join us for our Wednesday webinar!
Every week we break big, complex processes like building your email list and growing a successful YouTube channel into small, actionable steps you can put into practice straight away.
Webinars not your thing? Head over to our YouTube channel and watch the latest videos.