A well-managed calendar is
the
reason you showed up to your last dental appointment on time. It keeps you organized and helps you do more. If you use the
Google Calendar
, I've got a special treat for you today. In this post, we are going to share 5 killer Google calendar tips and tricks to take your productivity to the next level. Let's dive straight in.
1. Create Events from Gmail
Wouldn't it be great if you could transform the urgent email you just got into a calendar task without leaving Gmail? You can! Just click on the email you'd like to turn into a task, tap on
More,
and select
Create event.
The email will magically transform into a task on your Google Calendar.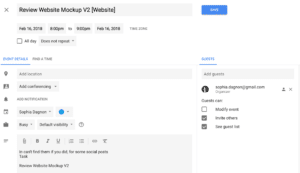 You can set a time to deal with it, add extra info and invite guests.
2. Publish and access public calendars
Do you struggle remembering your favorite team's playing schedule or the national holidays? You can sign up for a number of
public calendars
or create your own and share it with others.
Just click on the + sign underneath your calendar on the left-hand side of your dashboard and select
Browse calendars of interest
to find awesome, potentially relevant calendars. Or, you can hit
New calendar
and create your own.
3. Email Your Daily Agenda
Do you use Google Calendar to schedule all your appointments? Why not get a neat schedule of what you've got going on today emailed straight to your inbox first thing in the morning? This is a great feature for sharing your schedule with a VA, a colleague or a friend without sharing your entire calendar. To set this up, open up your calendar and click on
Settings
.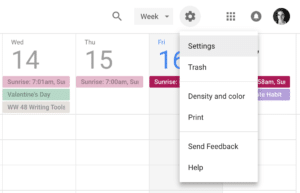 Select the calendar you want to send yourself an agenda for and scroll down to the
General Notifications
.

There, you'll see the
Daily Agenda
. Select email and you are good to go!
4. Share your calendar
Sharing your calendar with your team members, friends, and family can make it a lot easier to schedule appointments. When you try to create an appointment with someone that you've shared your calendar with, Google searches both your schedules and offers up potential times when both of you are free. This makes it so much easier to find the right time to schedule that important meeting or lunch date.
To share a calendar, click on the three dots next to the calendar you'd like to share and choose
Settings and sharing
.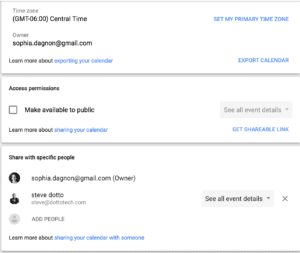 You can make your calendar public or share it with specific people.
5. Set an appointment agenda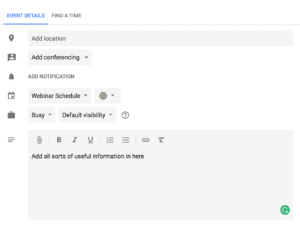 Setting a clear agenda before a meeting can make the whole thing go so much faster! Google Calendar gives you that option by including a pretty sizable box with every appointment. Use the box to add extra info, paste your agenda, attach important documents and share all sorts of relevant extra info.
Make the most of your Google Calendar
Your calendar is an indispensable tool. I hope that these tips will help you make the most of your Google Calendar! Do you have a favorite? Let me know! Until next time,
Have fun storming the castle!
What are you doing this Wednesday?
Join us for our Wednesday webinar
!
Every week we break big, complex processes like building your email list and growing a successful YouTube channel into small, actionable steps you can put into practice straight away.
Webinars not your thing? Head over to
our YouTube channel
and watch the latest videos.