Slack is a superb platform for remote working and collaboration. Learn how to use Slack with this guide to its cloud-based features and functions.
It's no secret that my team and I use Slack a lot—and with good reason.
Slack is a communication and collaboration tool with a single purpose in life, at least the way I see it: to become everyone's go-to for internal communications. And right now, when everyone's working from home and digital coordination is becoming increasingly important, the best thing you can do is to keep communication simple and organized.



Remote Working on Slack vs Other Platforms

Now, I'm about to say something that might sound controversial: If you stop and think about it, our email inbox is one of the greatest wastes of time that we have, particularly for internal communication. We all know how much time we spend opening and closing emails, returning to the same email, being copied on emails that we're not interested in all from internal team members… the list goes on. 
This is exactly why many of us tend to, er, MacGyver our own internal communication methods, like when we use Facebook Messenger to buzz people or send files. So imagine the ensuing chaos when you need to find that one irritating but important document—and you suddenly can't remember which platform it's supposed to be on. The time you waste searching and stressing over it… that's time wasted, and it's your productivity that takes the biggest hit.



With Slack, though, that problem is easily taken care of. Slack uses an interface which is very similar to a chat interface. If you're comfortable with Microsoft messenger or text messaging, you'll be comfortable with Slack. Additionally, Slack is a cloud-based service, meaning all of the information gets shared back and forth through web services in the cloud. 
There are some additional bells and whistles that allow you to have project-based conversation threads, but effectively, you are in a simple chat window: There's a messaging area down below, a roster of the different people you're communicating with, and even options for sending attachments. It's basically where your project lives, where your team lives: A virtual environment designed for maximum productivity.



Getting Started On Slack
There are three different ways in which you can use Slack.
First, you can use Slack within a web browser. In the web version, you can do a lot, as far as setting up your account is concerned. 
There's also a desktop app that you can install. It's slicker, cleaner, and faster, and it works on both Windows and Mac. 
Lastly, there's a Slack mobile app for your smartphone or on your tablet. 


The Slack Interface
The actual Slack workspace is broken down into a couple of different areas. 



First of all, we have a workplace switcher, which allows us to jump back and forth between different teams that we might be working in. This is really useful if you're a freelancer or a subcontractor. 



Now I've got my main DottoTech channel, another one from an old course that we created for learning how to use Slack in the workplace, and several other channels that are for projects that I'm working on with external companies.



Related conversations on an individual project are all going to be clustered into the different channels. Also, you can make as many or as few channels as you want. 
Beneath that, you have your direct messages, which is where most of us use Slack. And then we have the actual conversation feed here, which looks very similar to any other instant messaging app. You can incorporate all sorts of assets: videos, images, documents, and so on.
In the drop down menu here, you can update your profile and do some basic management and administration of your Slack channel.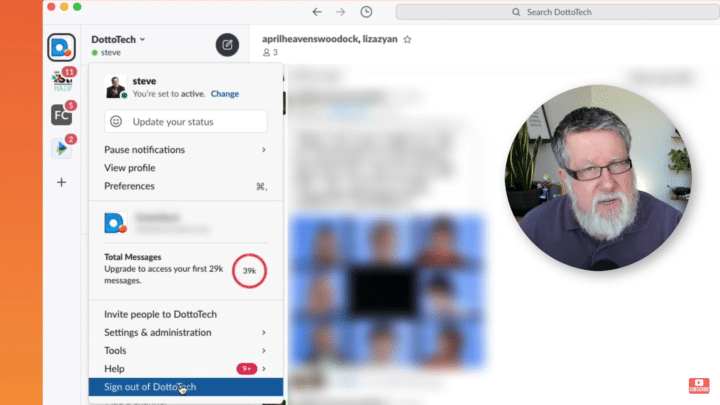 Search Functions Within Slack
Slack archives all of your conversations, and gives you instant access to any historical conversations you have through its powerful Search feature. 



Think about it: if you need to find a reference to a conversation that's buried in a series of emails, finding that and doing a search on it could take a lot of time. 
That's not a problem with Slack; even on the free plan, you get access to a very robust Search feature that scans several months' worth of messages.

Slack's Chat Interface
Slack's chat interface works just like other messaging apps. You just type into the chat box below and hit Enter, and it sends your message instantly. 



If you are working with team members, knowing who's online, who's not, or who has a Do Not Disturb sign on them is extremely helpful (we'll get into that later). Slack brings us all of the instant gratification of instant messaging, with additional context knowing when a person's available, where they're available, and what their status is. This is so that you can more effectively manage your expectations, as well as manage your conversations. 

Slack Integration
One of the things that I got most excited about when I first looked at Slack was the integration with other apps. 
Slack sits at the heart of an entire productivity system. It has dozens of integrations: Other apps will interface with Slack to create some really wonderful work processes. 
For example, here's one of our regular chat windows. Let's say I wanted to start a Zoom call with my team. I just hit the slash key, and then type in zoom, and then hit Enter. 



Voila, it launches a Zoom meeting and sends an invite to everybody in your list automatically. It's that easy.



With the free version of Slack, you can install 10 integrations. The paid version comes with an unlimited number of integrations. And believe me, there are a LOT of apps you can integrate with Slack. 



It feels like a treasure hunt, seriously.
File management is another area where Slack is really strong, largely because of the fact that it's cloud-based, plus the aforementioned robust integration of various apps.


A Closer Look at Slack for Mobile



If I go into the Slack app on the iPhone, I can check any of the conversations that I have in chat. 
It's very similar to an instant messaging app on your smartphone. With it, you have pretty much the exact same level of control as you would have on the desktop. 
At the very top, on the upper-left corner, you'll find three lines (the so-called "hamburger menu") that allows us to navigate more broadly within the different channels that we have built into Slack. 
Unsurprisingly, a lot of people live on the mobile version of Slack, because you get great functionality on your personal device, plus a very comfortable interface.


Slack Presence and Status
Using Slack instead of using email means that there is an additional opportunity for instant communication to happen back and forth with a team member. 
When you're working with a remote team, knowing who's available to you (and who you have access to) is important as you work your way through different issues in the day. Thus, respecting both other people's time and expectations is a really important part of using Slack. Setting reasonable expectations is tremendously important when you have a tool that reaches out as intimately and instantly  as Slack does. 



Now, here's the key to managing that. Click on your account settings; you'll notice that you have the ability to change your status at any point, or pause notifications coming to you. You can also let people know if you're sick, if you're commuting, if you'll be in a meeting for an hour… The possibilities are endless.



For me, the absolute best thing about Slack is that you can use it super efficiently just for simple conversations at the beginning, even without knowing all of its functions. And over time, as you get more experience, you'll start to use the integrated tools and applications. In  other words, it's a tool that you (and your team) can grow with.


Slack Academy
Oh, one more thing: My good buddy Brooks Duncan, an excellent teacher of all things Slack, worked with me on producing a course called the Slack Academy. 
You can sign up for the free version, which will give you a more detailed tutorial than the guide you're reading right now. On the other hand, the paid version is for power users—companies that want to make sure that everyone's on the same page and maximizing what Slack can do. 
Visit the Academy here, and start your Slack learning journey. If you want to learn the fastest and most efficient way to use slack both as a user and as an administrator, this is perfect for you. 
Check out the full video tutorial here, or sign up to our Webinar Wednesdays and get more helpful tips on all things tech-related by clicking here. 
Thanks, and have fun storming the castle!
STEP up your productivity?
If your answer is YES, then you should sign up to our free weekly Webinar Wednesdays to go behind the scenes and get tips and tricks on how you can 10X your productivity and become a better content creator.