Ready to manage Google maps (and what it knows about you) like a pro? Because Google knows where you were yesterday. And it knows where you had lunch last Tuesday.
But it doesn't have to.
If you want more control over your data, I'll show you how you can manage Google maps and control access to your location data.
Google Maps and Your Data
Google Maps is one of the fantastic conveniences of modern life. When you use Google Maps, you give the app access to your location. In exchange, you get relatively accurate directions along with other benefits like arrival time estimates that take the current traffic level into account. Pretty cool, right? However, not everyone is comfortable sharing their data like this. In fact, many of us aren't sure just how much data we are sharing in order to use the app. The answer? It depends on the kind of permission levels you set. So how do you know what kind of data Google Maps has on you?
See Your Google Maps History
To see your Google Maps history go to maps, and in the drop-down menu select "Your timeline."
From this page, you'll be able to see your entire location history.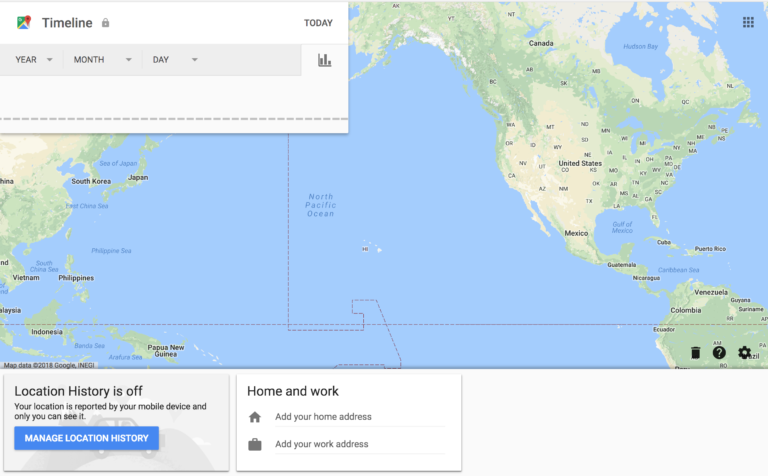 If your Location History is turned on, Google keeps an incredibly detailed list of everywhere you go, including how you got there, and what time you arrived at. This can be either awesome or creepy, depending on your views. On the other hand, if your Location History is turned off, Google will not store your past travel data. How do you control your location settings? You've got a couple of options. If you like having a detailed record of your life but want some control, you can keep Location History turned on and then go through specific events in your travel history and erase the ones you don't want to keep. If you don't like the idea of Google knowing that much about you and want to turn off access to your location data altogether, head over to the
location activity controls
and toggle your Location History off.
You can also turn your location services off on your iPhone by heading over to Settings–> Privacy–> Location Services and toggling it off.
If you are worried about other apps, you can control their access to your location data through this menu as well.
The price of convenience
The kind of convenience you get by using Google maps does have a price– data. User data helps Google improve the algorithm and in turn allows them to create a better, more personalized, user experience for you. You need to decide what that convenience is worth to you– no one else can make that decision for you. Not sure? Here are some extra resources to help you out.
Good luck and until next time,
Have fun storming the castle!
What are you doing this Wednesday?
Join us for our Wednesday webinar
!
Every week we break big, complex processes like building your email list and growing a successful YouTube channel into small, actionable steps you can put into practice straight away.
Webinars not your thing? Head over to
our YouTube channel
and watch the latest videos.