How to use the Zoom on mobile. Zoom works great on your mobile devices. iPhone, iPad, Android phone or tablet.  Especially if you don't have a dedicated webcam or mic for your notebook or desktop computer.
As a growing percentage of the global workforce is becoming increasingly dependent on Zoom video conferencing, it's a must that we all learn how to properly navigate around this digital environment for both remote working and long-distance communication.
Now, the average person might think that using Zoom on their iPhone, iPad, or other mobile devices is far from ideal, and I can't really blame them. After all, there seems to be this unspoken notion that when it comes to video conferencing, you're better off using a desktop computer or notebook than something small and mobile.
However, that's not necessarily true. As a matter of fact, one of my favorite ways to use Zoom is through my mobile devices. That's right: You can host and participate in Zoom calls with your iPhone or Android phone or tablet, and still have a pleasant overall experience, if not better. 
Actually, there are a number of benefits that you can get out of using Zoom on mobile:
First, using Zoom on your smartphone or tablet frees up your computer for doing other work. For instance, if you're attending a webinar or hosting an online meeting, you can use your mobile device to perform those actions, so that you finish your other tasks on your desktop without one activity hindering the other.
Second, I think most of us forget that our mobile devices are actually equipped with some pretty high-quality cameras and mics! In fact, they're often better than the built-in ones we have on our laptops, desktops, and notebooks. Plus, it's easier to tether in our headsets on our mobile devices. I mean, aren't improvements in audio and video quality the reason why many of us upgrade our mobile devices on a regular basis?
Third, with device mobility comes location fluidity. You can enjoy the freedom of moving around the house while you're on a Zoom call using your mobile device. You can even switch off your video and just participate with audio as you finish your chores and go about your day!
So now that you know why you'd want to use Zoom on mobile, here's how you can take advantage of its many features — and why you're certainly not a "second-class" participant if you do.
Zoom on iPhone: Getting Started
As you probably already know, we have numerous how-to guides on using Zoom which you can check out on on our YouTube channel or here on our website. What you'll notice is that in a lot of these tutorials, I use the desktop version of Zoom.
Here's the thing, though: While there's really nothing wrong with using Zoom on desktops or notebooks, my favorite way of using Zoom is actually through my mobile devices, for the reasons I stated in the introduction.
Indeed, there's a lot of potential in our smartphones, tablets, and mobile devices for video conferencing—as long as we know how to do it properly.
So, let's start by learning how to set up a Zoom call using your iPhone.
When you open your Zoom app on your iPhone, you'll see the different basic options to create a new meeting, join an existing meeting, schedule an upcoming meeting, or share your screen.
To start a meeting, simply click Start a Meeting. Here, you can use a personal meeting room—a virtual meeting room that's permanently reserved for you, which you can access with your Personal Meeting ID (PMI) or personal link—or a brand new room. 
You can also switch your video on or off as you start the conference. Because you're using a mobile phone, you may want to start your call without video to make it less taxing on your bandwidth.
You can also choose to dial in—which, for the record, I've never done—where you phone in over a standard phone line. Or you use the standard internet audio and video (which is what I always do).
Check out what the Zoom call looks like on my end. it's just me, in what I could only describe as an introvert's dream Zoom call:
Now, let's get some participants into the call. (Spoiler: It's still going to be just me.)
Tap on the Participants button to see the menu. At the very bottom of the screen, you can choose to invite people in, as well as chat, mute or unmute people, and other ways to control your attendees' conference privileges.
Tap on the Invite button, and you'll see different options: Send Email, Send Message, Invite Contacts, or Copy URL.
Now, I've had issues with the Send Email and Invite Contacts in the past. So I just select Copy URL, old-school style, and then I go into my preferred email or messaging client. Then, I just send the link to the people I want to invite. For this example, I sent it to myself.
Afterwards, I simply checked my email on my computer and clicked that link. Voila, I've joined my own call!
Here, I muted the speaker and microphone on my monitor because if I didn't, I would have subjected my ears (and yours) to a horrific feedback loop throughout the tutorial.
Zoom Video Call on Mobile: Display Options
Now, another handy feature when you're having your Zoom call on mobile is that you have more than one display option. 
By default, it's in Portrait mode: 
Landscape mode widens it quite a bit, though:
Screen space on a mobile phone is crucial, so it requires a little more effort to manage these options on a smaller screen. 
On a desktop computer, it's easy to just open a window and chat away. On a smartphone, though, it requires a couple of steps. 
First, go to Participants, the tap on Chat. The chat window goes up, but it obscures the entire main window. Then, you can start typing.
Basically, you have the same permissions. The only difference is that you're limited in terms of what you can see on the screen simultaneously.
If you're hosting the call, you can turn permissions on and off for people, and even mute or unmute everyone, via the Participants screen. This can prevent a lot of cross-talk (i.e. people talking over each other) from happening, and makes the call run more smoothly.
Zoom Video Conferencing: Sharing Your Screen or Content
Now, let's look at how to share content in a Zoom call on mobile.
Your Sharing Content screen looks a bit different from what you would normally see on your desktop Zoom app, but it's essentially the same thing. Through this, you can share content from your Gallery, Drive, Dropbox, or other storage areas in the cloud or on your device. You can even share a website URL!
Under the More menu, you can access your meeting settings.
When I joined the call from my desktop, I used a virtual background. This is how it looks like: 
Virtual backgrounds work pretty well as a participant on mobile, but it's admittedly a bit more cumbersome if you're hosting a meeting. 
As for audio, if you plug in your headset, you can improve the audio quality significantly. The great thing about holding Zoom calls on mobile is that you have hands-free options as well; simply mount your smartphone or tablet on a tripod if you need to free up your hands and work on your computer. 
Alternatively, you can have your mobile device completely set up as your only interface, if you don't have a computer within reach.
Zoom on iPad
Time to bring another mobile player into this call. The iOS version of Zoom is pretty much identical in both the iPad and on the iPhone. You just have the advantage of some extra "real estate" on the iPad, so to speak.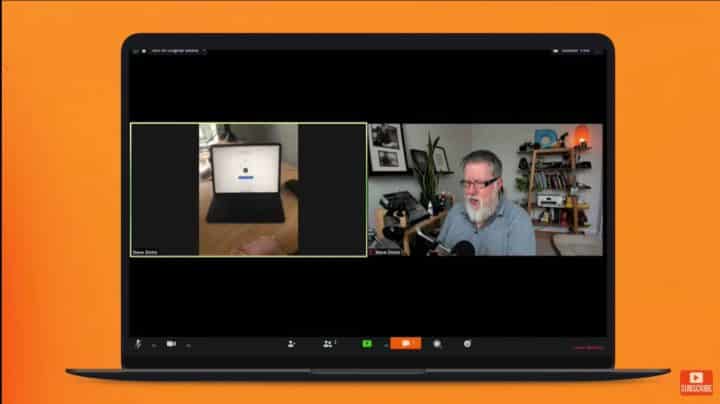 If you go in and look at the main menu of the iPad, you can access the same options for starting, joining, and scheduling a meeting. And as I mentioned earlier, there's also the option to share screens.
Look, three of me in a single video conference:
Additionally, instead of having the menu items along the bottom, you can access them from the top. You just need to tap on the screen to see them.
Now, let's check out the whiteboard option on the iPad. What I love about using the Zoom whiteboard on the iPad is that you can illustrate and write on it quite nicely, thanks to Apple's slick pencil.
See? As demonstrated here, regardless of which platform you want to use to host or participate in a Zoom conference call, you can make the most out of the app's features pretty easily.
How to use Zoom on Mobile
STEP up your productivity?
If your answer is YES, then you should sign up to our free weekly Webinar Wednesdays to go behind the scenes and get tips and tricks on how you can 10X your productivity and become a better content creator.