Invoicing.
If the word makes you pull out your to-do list and desperately look for a different task that has to get done, we've got something in common. 
Accounting is not my favorite part of running a business. It sits right between switching email providers and dealing with a website crash.
That's why as soon as it was possible, I hired a professional.
The only thing I still had to do was send invoices.
Then one day, my accountant approached me and firmly insisted that my invoices had to change.
So I started looking for better software. But because I just needed something for invoices, I didn't want to invest too much money.
That's when I found Wave Apps– free invoicing software that helped me create professional looking invoices in minutes.
Introducing Wave
With Wave's free-invoicing software, you can create, customize and track your invoices from inside a single dashboard.
To get started, sign up through Google or create an account using your email and password.
Setting up
The sign-up process is pretty intuitive.
After you sign up with your email and password, or through Google, Wave will ask you for some more information about your business. This helps them offer you the right resources and information so you can get started fast.
Fill in your business name and what you do, make sure the country and currency are right, and hit "Let's go!"
Welcome to your Wave dashboard. When you are ready to get started and set up your software, click "Let's do this!"
Wave will then offer you a few options.
Choose the one that's right for you. Because I picked this software for its professional invoicing capabilities, that's the option we'll walk through today.
From this menu, pick the option you'd like to get started with and the Wave team will walk you through the process.
Creating your first invoice
To create your first invoice in Wave, click on Sales in the left-hand side menu and select Invoices.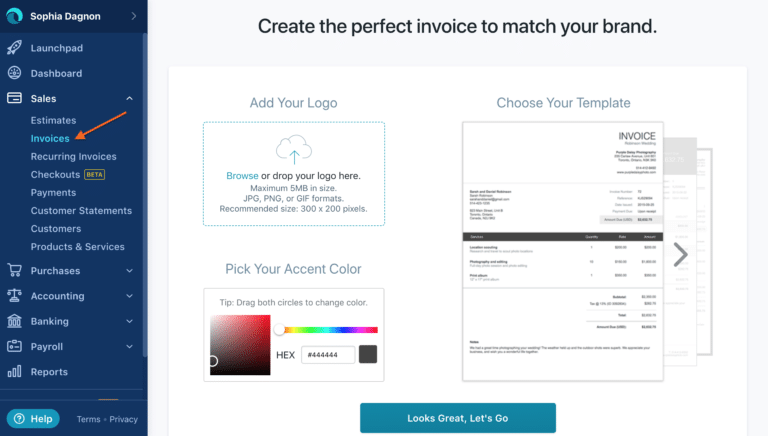 Here you can choose a template, add a logo, and pick your accent color. You can change these at any time by going to Settings.
Creating the invoice itself is wonderfully simple.
Just fill in all the fields like adding a customer and items. Wave Apps will remember all your details for next time so filling out invoices gets faster and easier, the more you do it.
Do you need to collect taxes from your customers? Wave makes that easy too.
You can set up the different taxes you need to collect regularly.
Once you're done, Wave creates the invoice as a draft, giving you the chance to double-check it and approve it.
You can then send the invoice directly from the app– you can use Wave's servers or send it from your email.
Wave also makes it easy to add reminders and track the invoice. Plus, you can sync all your accounts with your bank account, credit card, and other services.
Software that grows with you
Wave Apps is a full-featured accounting package— you can do as much, or as little, with it as you need to.
You can use it to send simple invoices or you can use it to run all aspects of your business.
Wave can help you whether you're just starting out or you're a full-grown business– it's one of the things I really like about it.
How about you? Ready to give Wave a try? Or do you have a different favorite invoicing software? Let me know in the comments!
Until next time,
Have fun storming the castle!
What are you doing this Wednesday? Join us for our Wednesday webinar!
Every week we break big, complex processes like building your email list and growing a successful YouTube channel into small, actionable steps you can put into practice straight away.
Webinars not your thing? Head over to our YouTube channel and watch the latest videos.
Facebook Comments
THE DOTTO TECH TOOLKIT
Swipe my toolkit and start building your own
‌


Congratulations! You will now be redirected to the Toolkit page.