Can't decide where to hold your next online meeting? Here are three great options that have been around since 2018—and how much they've changed now.
These days, we all spend a lot of time communicating with our teams online. Admittedly, conducting online meetings isn't new to me and my team, since we're located in different parts of the world. 
In fact, we made a video about it way back in 2018, highlighting three of the top online meeting software options from that year.
Given how the world has shifted towards online meetings as the go-to method of coordination due to the COVID-19 pandemic, we thought it would be fun to see how much has changed about the three—Zoom, Skype, and Appear.in, no known as Whereby—since then. 
Online Meeting Software: Must-Have Features
Let's start by talking about what I think are non-negotiables. For any sort of online meeting software to be deemed "acceptable," it must:
Be reliable, letting you engage in really good calls with high quality audio, high quality video, and a robust connection. 
Be user-friendly. 
Run natively on all devices.
Give you the ability to screen share. 
Let you do whiteboard work.
Have built-in chat. 
Let you record the call.
Integrate with calendars and other business apps.
Have a robust invitation system, through email or calendar apps.
Zoom vs. Skype vs. Whereby: Online Meeting Software Showdown!
For each online meeting software featured here, my colleague April and I created demo sessions that give you a glimpse of what they could do. Let's start with Zoom.
Zoom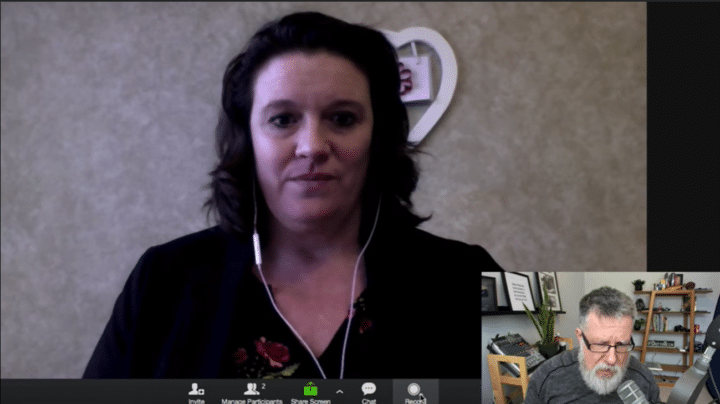 At the time and up to now, Zoom is still the DottoTech team's go-to meeting software option.
One of the biggest challenges about Zoom was (and arguably still is) that it's an executable. It doesn't play back in your browser; instead, it opens an app.
However, it's not that hard to start Zoom video conferencing, as the app launches itself after you click on the appropriate link in your browser. The advantage here is that with Zoom, you have so much control over compression and bandwidth.
Zoom is free to use, but the paid version offers increased dependability. It was good back then, and it's still good now. (Oh, and we have many guides on Zoom's video conferencing features that you can read or watch!)
Zoom lets you record a meeting, or even change your conference view. You start by going to Gallery view to see yourself a bit more easily. As more people join the meeting room, which creates a filmstrip of sorts where you can see participants.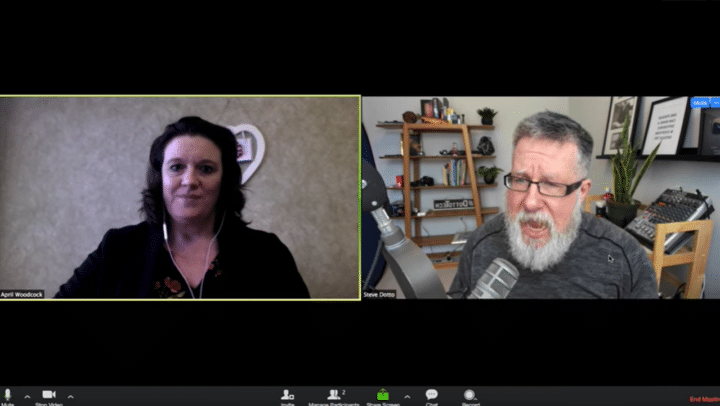 Zoom also has a built-in chat feature that we admittedly don't use that much. We actually prefer Slack, sharing links back and forth on the platform as we chat. 
Speaking of Slack, Zoom integrates quite nicely with Slack, as an add-on of sorts. For instance, I can just put in /zoom in Slack and it creates a session that everybody can just click on. As far as navigating into the session, it's super simple. 
It's also equally simple to integrate your Zoom meetings into your calendar:
As shown in the demo, if I create a new appointment in my Google Calendar while I have the Zoom Chrome extension, I can make any meeting or calendar appointment a Zoom meeting, with options for password protection, creating a personal meeting ID, adding watermarks, and even setting up alternate hosts.
Basically, Zoom is reasonably priced, and it does pretty much everything that we want.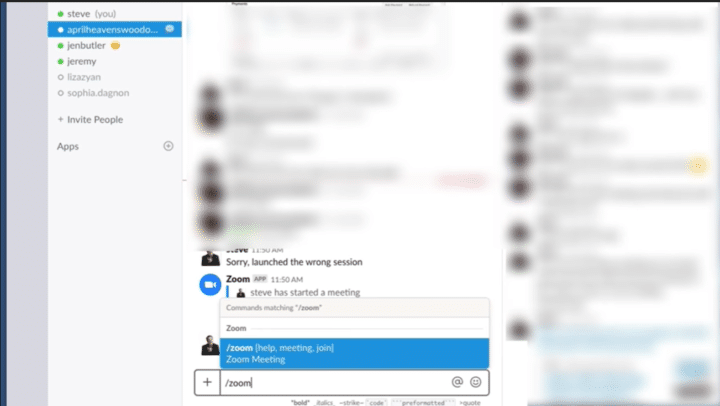 Skype
Next, let's take a quick look at Skype.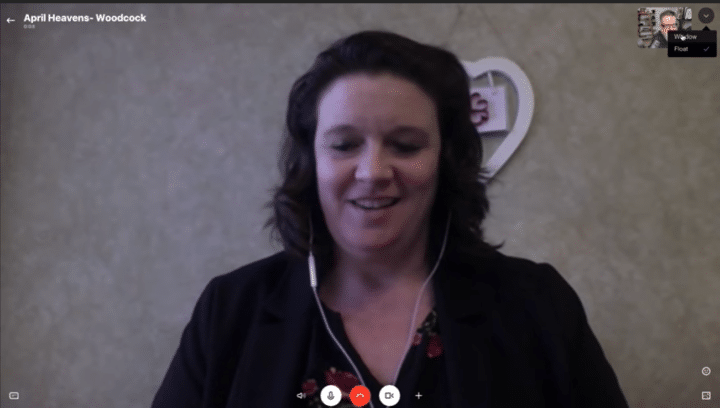 Skype has basically been around forever, and is constantly updating its interface. A true video calling platform, you can add quite a few people for a meeting, but it's actually better for one-on-one conversations.
Skype has built-in chat, the ability to screen share, and a feature for adding people to an ongoing call.
For numerous reasons, though, we don't really use Skype that much, as we tend to get better performance and connectivity on Zoom. Of course, this differs from case to case, so you might want to try it first. 
Skype is free, it's easily available, and it will work. (Interestingly, a few months after we made that demo video, Skype added call recording to its list of functions!) Ah, and if you live in a Microsoft-centric ecosphere (e.g. you rely on Office), you'll find Skype so easy to use.
Whereby (Formerly Appear.in)
And the third and final contender is one that was and still is dear to my heart: Appear.in, now Whereby due to a trademark dispute.
The cool thing about Whereby is that it's browser-based, which we find incredibly convenient. Just visit the site, create a room, and then you can start talking with people. There's no cost to use it, though the premium version has some extra features available.
Actually, before we bought our Zoom subscription, we used Appear.in/Whereby for our meetings, because like Zoom, it's easy to access through Slack: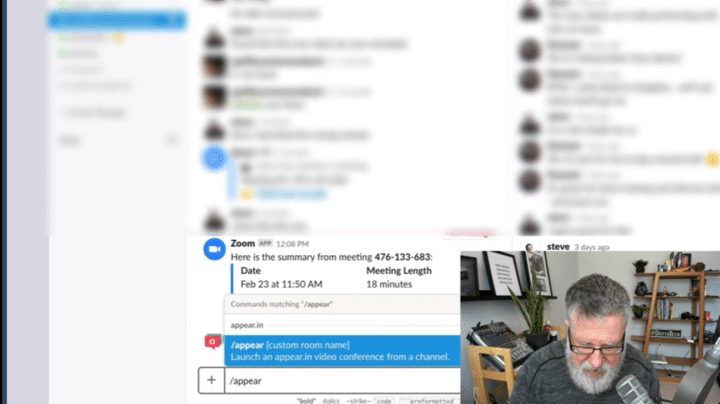 When we created this demo, Appear.in changed its layout to be more professional-looking and clean. 
There's a dash of fun to it, too, with some really amusing stickers:
You can have multiple people in the room with you. It lets you invite people into the room either through the browser or by copying and sending the link at the top. It also gives you control over turning off your cameras and microphones.
This online meeting software also lets you share your screen, with the proper extension:
There's a premium version priced at $10 a month, with a bunch of extra features. For the most part, though, Appear.in was good for what it was supposed to be: A free online meeting software that you didn't need to open another app for.
Verdict
So there you have it: Three different tools with three slightly different approaches that all do one thing very well: They all allow us to have online meetings really effectively.
Truth be told, it doesn't really matter which meeting tool you choose, as long as it can do what you need it to do. With online meetings, we save so much time and energy, and this efficiency is what makes online  meeting technology a boon for all businesses, pandemic or no pandemic.
So that's it. Check out the full demo video here. 
Oh, and we'd love to have you at our Webinar Wednesdays—you can sign up here. 
Have fun storming the castle!
Do you manage a remote team? Do you need to have regular meetings with your co-workers? The right meeting software makes setting up and running a successful meeting super easy. No need to get everyone in the same place– just set up an online meeting, send the invites, show up, and start working your way through the agenda. But choosing the right meeting software is tough. The right software needs to be reliable, render high-quality audio and video, have a robust web connection, and be super intuitive to use so that your whole team can jump in straight away. For more advanced business meetings, features like screen-sharing abilities, an in-line chat and robust integrations with your favorite applications can make everything run a lot smoother. That's why I'm going to share three of my favorite meeting apps with you today:
Zoom
,
Skype
, and
Appear.in
.
Zoom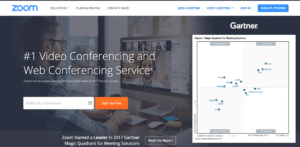 Zoom
, an app-based video and web conferencing service, is a great tool to use for your team meetings. It's got four distinct business plans with every feature you might possibly need.
The basic free version is a great reason to try out the platform. One on one meetings are unlimited, and you get access to all the fancy video conferencing features if your meetings stay under 40 minutes. It's a great reason to get through that agenda quickly and stay efficient. For more bells and whistles, check out the other plans. We use the small business plan at $14.99 USD a month, and it's worked really well so far. Zoom has been reliable and dependable– plus, the
record
feature makes it really easy to record training sessions and share them with the whole team.
Skype
Skype
is one of the oldest video calling apps and most of your team are probably familiar with it already. The free-to-use version is a great starting place for video calling. It supports basic screen sharing and playback. You can't record calls but you can use a Skype call recording app to tape your meetings. If you use Microsoft products (or have a
Office 365 for business
subscription,) Skype's got plenty of useful extra features to offer.
Appear.In
Appear.in
is a browser-based meeting app. Unlike Zoom and Skype, there's nothing to download so setting up a meeting is super easy. Appear.in comes in two flavors– the free version and the pro version for $9.99 USD per month.
The free version lets you have up to 4 people in your meeting, has strong integrations with apps like Slack and Trello, and allows for limited screen sharing. With the premium version, you can have up to 12 participants in the room, making it perfect for most business meetings.
The right meeting software for you
Zoom, Skype, and Appear.in all offer the same basic features that make online meetings easy and convenient to have. One of the best ways to find the right app for you, is to take 10 minutes and experiment with each one. Phone a friend (like I did in the demo!) and see how each app holds up. All of the apps we mentioned have free versions that offer an excellent starting point into the world of meeting software. Until next time,
Have fun storming the castle!
What are you doing this Wednesday?
Join us for our Wednesday webinar
!
Every week we break big, complex processes like building your email list and growing a successful YouTube channel into small, actionable steps you can put into practice straight away.
Webinars not your thing? Head over to
our YouTube channel
and watch the latest videos.
0
";