Do you manage a remote team? Do you need to have regular meetings with your co-workers? The right meeting software makes setting up and running a successful meeting super easy. No need to get everyone in the same place– just set up an online meeting, send the invites, show up, and start working your way through the agenda. But choosing the right meeting software is tough. The right software needs to be reliable, render high-quality audio and video, have a robust web connection, and be super intuitive to use so that your whole team can jump in straight away. For more advanced business meetings, features like screen-sharing abilities, an in-line chat and robust integrations with your favorite applications can make everything run a lot smoother. That's why I'm going to share three of my favorite meeting apps with you today:
Zoom
,
Skype
, and
Appear.in
.
Zoom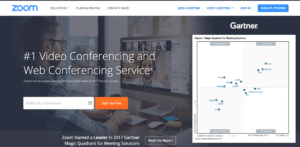 Zoom
, an app-based video and web conferencing service, is a great tool to use for your team meetings. It's got four distinct business plans with every feature you might possibly need.
The basic free version is a great reason to try out the platform. One on one meetings are unlimited, and you get access to all the fancy video conferencing features if your meetings stay under 40 minutes. It's a great reason to get through that agenda quickly and stay efficient. For more bells and whistles, check out the other plans. We use the small business plan at $14.99 USD a month, and it's worked really well so far. Zoom has been reliable and dependable– plus, the
record
feature makes it really easy to record training sessions and share them with the whole team.
Skype
Skype
is one of the oldest video calling apps and most of your team are probably familiar with it already. The free-to-use version is a great starting place for video calling. It supports basic screen sharing and playback. You can't record calls but you can use a Skype call recording app to tape your meetings. If you use Microsoft products (or have a
Office 365 for business
subscription,) Skype's got plenty of useful extra features to offer.
Appear.In
Appear.in
is a browser-based meeting app. Unlike Zoom and Skype, there's nothing to download so setting up a meeting is super easy. Appear.in comes in two flavors– the free version and the pro version for $9.99 USD per month.
The free version lets you have up to 4 people in your meeting, has strong integrations with apps like Slack and Trello, and allows for limited screen sharing. With the premium version, you can have up to 12 participants in the room, making it perfect for most business meetings.
The right meeting software for you
Zoom, Skype, and Appear.in all offer the same basic features that make online meetings easy and convenient to have. One of the best ways to find the right app for you, is to take 10 minutes and experiment with each one. Phone a friend (like I did in the demo!) and see how each app holds up. All of the apps we mentioned have free versions that offer an excellent starting point into the world of meeting software. Until next time,
Have fun storming the castle!
What are you doing this Wednesday?
Join us for our Wednesday webinar
!
Every week we break big, complex processes like building your email list and growing a successful YouTube channel into small, actionable steps you can put into practice straight away.
Webinars not your thing? Head over to
our YouTube channel
and watch the latest videos.
0
";
Facebook Comments