Last week, Instagram released IGTV— the platform's first pre-recorded long-form video feature.
Curious about how Instagram TV work? Want to know how to get started?
That's what this post is all about!
What is Instagram TV?
IGTV is a space on Instagram designed for long-form video content. Like Instagram Stories, it supports vertical content– designed to work by turning the came on yourself, just like for a selfie.
The format is oddly candid. It disincentivizes uploading old videos that are formatted for other platforms, encouraging creators to bring their fresh ideas to IGTV.
Videos are between 15 seconds and 10 minutes long. However, there has been talk of letting certain creators upload videos up to 60 minutes long– we'll learn more about this as the feature matures.
All videos on IGTV are pre-recorded, just like for YouTube. This feature isn't here to usurp Instagram Live. Instead, it opens up Instagram (and its users) to fresh video content in an unusual format.
Getting started with IGTV
Ready to begin? First things first. You can use Instagram TV through the Instagram app or by downloading the stand-alone app from the App Store.
To access IGTV through the app, click on the TV-like symbol in the top right-hand corner.
When you open up IGTV, you'll see videos from the creators you follow as well as popular videos.
What IGTV looks like
When you click on the IGTV symbol or log into the app, you'll see something like this.
One video takes up the top half of the screen. In the bottom half, you'll find a search bar and four categories of videos.
The categories are:
For You
Following
Popular
Continue Watching
You can scroll through the videos in each category by selecting it.
You can search for specific creators through the search bar.
The cool thing is that the video you are watching will keep playing in the background as you browse IGTV.
Creating your IGTV channel
To create your IGTV channel click on the Settings icon and select "Create Channel."
Instagram will then give you a bit more info about IGTV.

When you are ready, click on "Create Channel" again and ta-da! Your IGTV channel is ready. You can see it on the right-hand side of the search bar.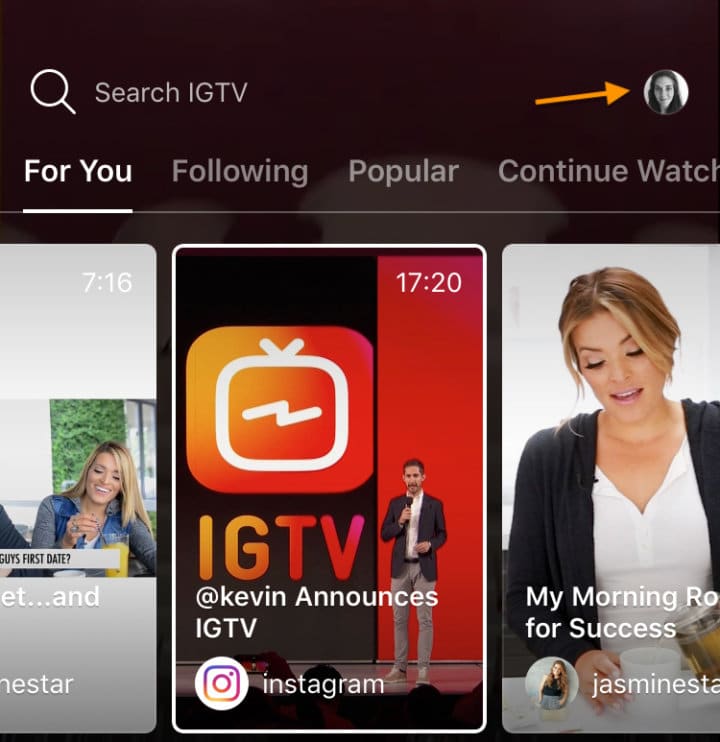 To upload a video, click on your channel icon.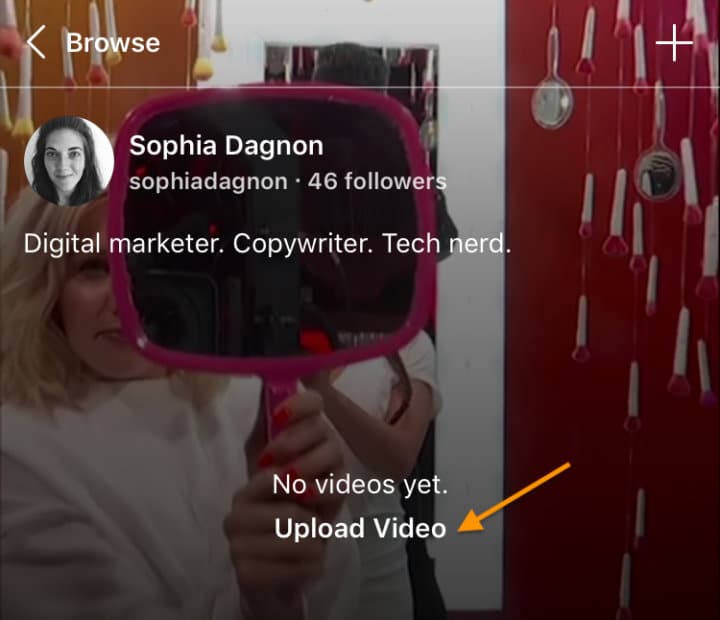 You'll be able to see any videos you've uploaded so far. When you want to add a new one, click on upload video.
Instagram will then show you all your eligible videos.
To be eligible for upload, videos have to be pre-recorded in the vertical format and between 15 seconds and 10 minutes long.
Click on the video you'd like to post.
Add a title and a description. You can add clickable links to the description. Instagram has been pretty stingy when it comes to links so I'm really excited about this!
You can also edit the cover photo and share the video to your Facebook page.
When you are ready click "Post."
Congratulations! Your first IGTV video is now live.
Cross-promoting with IGTV
As with every new social media update or piece of tech, we need to ask an important question– How can I use this to grow my business or achieve that specific goal I've been chasing?
I thought about some of the potential applications of IGTV, especially when it came to promoting Dotto Tech.
Here are some ways you can use Instagram's newest offering.
Use it to cross-promote your latest content. Record a vertical video and tease your latest YouTube video, phenomenal blog series or value-packed eBook.  You can add custom thumbnails and edit the video on your desktop before you upload.
Build an audience. The stage is wide open for high-quality content. IGTV doesn't use the traditional Instagram algorithm and Instagram want it to perform well so they'll likely favor this type of content. Use IGTV to create tutorials and promo demos for your ideal audience.
Are you excited about IGTV? Will you use it? Let me know in the comment or on social media!
Until next time,
Have fun storming the castle!
What are you doing this Wednesday? Join us for our Wednesday webinar!
Every week we break big, complex processes like building your email list and growing a successful YouTube channel into small, actionable steps you can put into practice straight away.
Webinars not your thing? Head over to our YouTube channel and watch the latest videos.