Apple's AirPods are effective, efficient… and expensive. Get tips and tricks on how to use AirPods (and what to do if you lose them) by reading this.
Technology makes it possible for us to do a lot of things. Sadly, that also includes getting into embarrassing situations and accidents when we're too busy with our mobile devices to pay attention to what's happening around us. One example is when we're walking outside while listening to songs or podcasts on our portable players via earphones or headphones.
I've lost count of all the videos I've seen of people doing this and subsequently becoming well-acquainted with gravity, face first. I've found that a good way to prevent this while still being able to focus your attention on your immediate environment is by using earbuds—and if you're an Apple user like me, you're well aware of what AirPods are and how useful they can be.
So, let's check out the different features of these AirPods and see what they can do.


How to Use AirPods with Your Device
My first thought upon receiving my AirPods was "Wow, what an industrial design marvel." 
After opening the case and switching my iPhone's Bluetooth on, my iPhone invited me to pair it with my AirPods. Since then, my device has been able to automatically identify and connect to my AirPods ("Steve's AirPods"). 



And what's cool is that it happens after the simple action of opening the lid of the AirPods case—no need for manual prompting!
Anytime after they're connected, when you open it up, your device gives you feedback on your AirPods' battery level. Oh, and the case also acts as a charging case for when you're traveling.



Another way to check the battery level of your AirPods is by swiping to the right and then scrolling down. 


Controlling Your AirPods

When I made the video for this AirPods tutorial, one of the things that I couldn't help but notice was the limited amount of control AirPods had. 



One example is how, unlike many tethered earbuds with buttons, you can't control volume directly from your AirPods (you'd have to invoke Siri with your AirPods for that).
However, you can double-tap on either one of your AirPods (which can make you look rather ridiculous if you do it outside) to invoke a number of commands:


Invoke Siri
Play or Pause
Skip to the Next Track
Return to the Previous Track
Note that you have to indicate in Settings what tapping on the left or right earbud does.



Automatic Ear Detection



Basically, what Automatic Ear Detection means is if you take an earbud out, it will pause whatever it is you're playing, and it knows when it's put in back.
 

It's also location aware, meaning it knows when to connect and automatically transfer whatever the audio signal is from your phone to the AirPods. This tends to work about 95% of the time. 

Caller ID
Keeping your phone in your purse or in your pocket maximizes the point of the earbuds being completely wireless. However, doing this makes screening calls a bit harder. If my phone is in my pocket, it defeats the purpose of caller ID, since I can't see who's calling and I'd have to dig up the phone to check. 



If you go to Settings and scroll down to Phone, you can choose a feature called announced calls to have the caller ID audibly announced through your earbuds.



There's one caveat, though: It will only work if the caller number is in your address book. 



Locating Your AirPods Using Find My iPhone
AirPods are small and wireless. While that makes them extremely convenient to use, that also makes them extremely easy to lose. And as these things are extremely expensive, losing them is something you absolutely do not want to do.
Fortunately, in case you misplace them somewhere in your house, you can use the Find My iPhone feature that's built into iOS to find your AirPods. It'll tell you physically where they are close by.



If you click on your AirPods in the Find My iPhone app, you can ask them to play a sound—not super loud, but loud enough that if they're under a cushion, in your purse, or in your pocket, you might be able to hear the sound emanating from the speakers to assist you in finding them.



So when you activate this, your AirBuds play a sound like a little cricket, chirping away sadly. So if you just drop one somewhere, that should help you find it. You can even choose to play on one side (the one you dropped) and keep the other (the one you're presumably still wearing) mute. 


Protecting Your AirPods


As I mentioned earlier, these things are quite pricey. So aside from losing them, you absolutely do not want them to be stolen from you. 
Luckily, creative solutions exist in the form of disguises for your case! For instance, you can dress it up to look like a case of breath mints, like so: 


How I Use My AirPods
Still, as much as I like these, I only use them when I'm at home or when I'm walking outside. Basically, short travels. 
AirPods are great traveling earbuds, but they aren't great airplane earbuds. Why? Because they're too quiet. They're not good at noise cancelling, so you'll end up unhappy if you tried to use them inside a plane or on any sort of public transport.
Now, I have a favorite set of (equally expensive) earbuds for that particular purpose: my Bose noise cancelling earphones. 



They're wired, they plug in, and they've got a little battery, a power system of sorts.
This pair of earphones actually cancels the noise (the low and persistent kind, not when people are talking to you or staccato-type) out of whatever environment you're in. Plus, they're molded to fit really nicely in your ear. And so, I love using these on long flights.
Still, for home use or short walks, AirPods are a great choice if you want to "get lost" in whatever you're listening to without actually losing track of the environment around you.
Check out the full video tutorial here, or sign up to our Webinar Wednesdays and get more helpful tips on all things tech-related by clicking here. 
Thanks, and have fun storming the castle!
If you use Apple products, you've thought about getting a set of AirPods– sleek and wireless, they are marketed as the perfect match for the iPhone 8 or iPhone X.
But are they worth it?
What do the AirPods really do? Let's take a look at them in action.
Your AirPods
The AirPods are Apple's answer to Bluetooth, wireless headphones. They are designed for convenience.
Pairing them to your device is wonderfully simple– no need to hold down buttons and tap your heels three times. After the initial set up, just holding your AirPods near the device prompts the pairing.
Let's take a look at some of their best features.
1. The case acts as an on-the-go charger
If you need to charge your headphones, just pop them into the case for a few minutes and you are good to go.
2. Track battery level of your pods and case from your phone by swiping right
Not sure how much battery you've got left? Swipe right to check.
3. Apple watch/pods integration
You can download music to your watch and go on a run with just your watch and AirPods– no need to bring the phone along this time. However, there's no easy way to download podcasts to the watch which can be frustrating.
4. Automatic ear detection
When you put your AirPods in your ears, the sound from any other devices is instantly transferred to your headphones. And when you take them out of your ears, the music pauses so you don't miss a beat. You can toggle this feature on or off in settings.
5. Announce calls
Want to know who's calling you? Get the caller ID announced through your earphones by heading to Settings–>Phone–>Announcing Calls–>Headphones Only.
This will only work if the caller's number is in your contacts but ot saves you taking your phone out every time.
6. Use the "find my iPhone" feature to find your headphones
Misplaced your earbuds again? Ask your pods to play a sound so you can find them. You can mute either side if you're only searching for a specific pod.
7. Disguise your case with stickers
Ok. This isn't strictly a feature of the headphones themselves, but it's a pretty great way to disguise your case.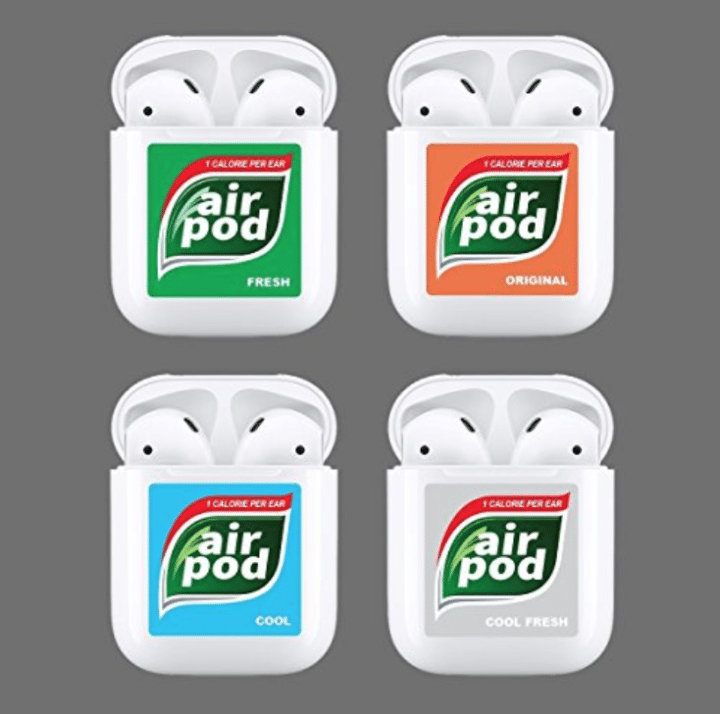 You can buy stickers that make your headphones case look like breath mints or gum to discourage theft.
Customizing your AirPods
Part of the AirPods appeal is their exceptionally clean design. However, this means there are no buttons to control the output.
Apple does give you one control option– the double tap. By double tapping on your earbud, you can invoke one of four commands:
Siri
Play/pause
Next track
Previous track
You can only have one command per earbud active at a time. To set it up, go to your Bluetooth settings and pick an option for each headphone. You can change these at any time.
But all's not perfect in AirPod land
While the AirPods are pretty handy, they aren't perfect. I've got two specific frustrations.
The elegant design doesn't leave room for volume control. The only way to adjust your volume at the moment is through your phone.
Too quiet. While the AirPods are perfect for listening to music while you workout or clean the house, they aren't great for traveling. They are too quiet for any mode of transport that has loud cabin noise– like a plane or the underground. For that, I use the Bose QuietComfort.
Yay or Nay?
Personally, I really like the AirPods. They sync seamlessly across all my devices and the charging case makes it easy to keep them ready-to-go.
However, I would like to see Apple improve some features– adding an easy way to listen to podcasts through the Apple Watch would be a great start.
What do you think? Are you tempted to invest in a pair? Let me know in the comments!
Until next time,
Have fun storming the castle!
What are you doing this Wednesday? Join us for our Wednesday webinar!
Every week we break big, complex processes like building your email list and growing a successful YouTube channel into small, actionable steps you can put into practice straight away.
Webinars not your thing? Head over to our YouTube channel and watch the latest videos.
Facebook Comments