Did you know that you can manage multiple email addresses in Gmail?
Instead of jumping from account to account, you can read and reply to emails in the same place and save time. 
In this post, I'll walk you through the exact steps you need to take to set that up.
The entire process will take you 2 minutes and it will make managing your inbox much easier.
Turn Gmail into your master account
Head over to your Gmail account and click on Settings.
In the Settings menu, go to Accounts and Imports.
This is where you can add a mail account from a different provider.
Let's take a look at how that works.
Adding a mail account to Gmail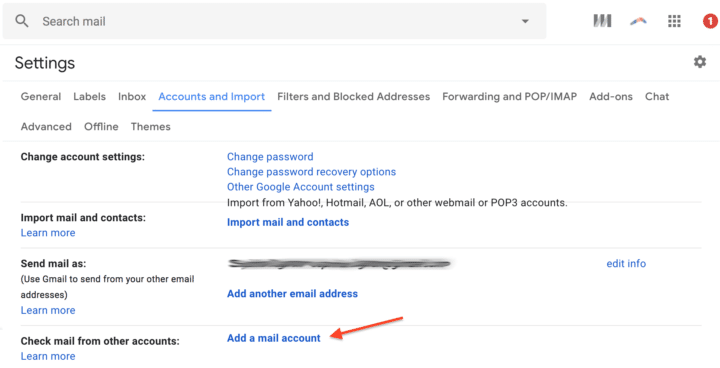 Click on Add a mail account.
Add the email address you'd like to sync and click Next.

Decide whether you want to:
Import the emails from your other account to Gmail– perfect for older email accounts on a separate server.
Link Gmail and your alternate account through Gmailify– great for providers like Outlook, Yahoo, or Hotmail.
If you go with the Gmailify option, Gmail will ask for permission to access your email. Grant it and you're done.
Now you can see your linked emails in the menu! And the emails from your other server will show up in Gmail.
Differentiating between accounts
How do you tell the difference between emails coming from different accounts? They all look the same in the inbox!
To make things easy, I use a simple color-coding rule. Let me show you how it works.
Choose one of the email that came from your new account, open it, and set up a filter.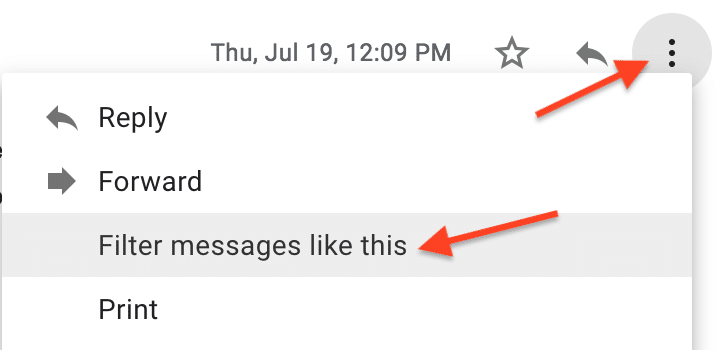 To get started, click on the three dots on the right-hand side and then select Filter messages like this.
This filter is designed to catch messages coming from a specific inbox so in the To space type in your email, then click Create filter.
Now it's time to choose what happens next.
Click on Apply a label and create a new label with your provider's name.
At the bottom of the list, check Also apply filter to matching conversations. This grabs any emails that just came from your linked address and puts them in the folder.
When you're done, click on Create filter.
To make the new emails easier to spot, change the label's color.
Scroll down to the folder and click on the three dots. Then select a label color.
This makes it easy to see where all your emails are coming from.
Manage all your emails from one inbox
Syncing other emails to your Gmail address makes it easy to manage everything from one place!
You reduce the chance of missing an important email and save yourself some time.
Do you use this feature? Are you tempted to give it a try? Let me know in the comments!
Until next time,
Have fun storming the castle!
What are you doing this Wednesday? Join us for our Wednesday webinar!
Every week we break big, complex processes like building your email list and growing a successful YouTube channel into small, actionable steps you can put into practice straight away.
Webinars not your thing? Head over to our YouTube channel and watch the latest videos.
Swipe my toolkit and start building your own
OUR PATREON COMMUNITY RECEIVES DISCOUNTS TO OUR ONLINE COURSES & EXCLUSIVE ACCESS TO OUR CONTENT.
WE'D LOVE FOR YOU TO BE PART OF OUR COMMUNITY!